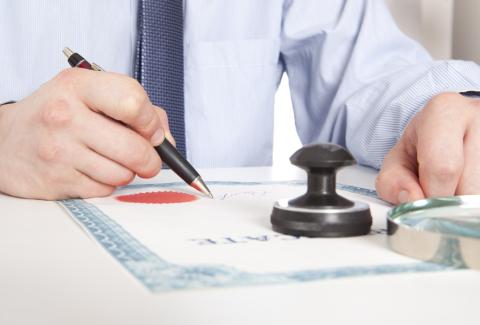 What is a certified translation?
A certified translation is a legally valid translation of a document or text. It is provided with a stamp, signature, and declaration of the translator (or notary, depending on the country). Certified (official) translations are often required by offices, courts or other public bodies and a characteristic of this type of translation is its official appearance.
Translations with certification
Alphatrad Denmark has an extensive network of official translators who can provide certified translations in many languages and directly into a target country's language.
We can therefore guarantee fast and reliable translation of your documents.
Certified (official) translations are usually carried out on official documents such as
Birth certificates, marriage certificates, death certificates
Court decisions, divorce decrees, petitions, orders of summary judgments
School reports, job references, criminal records.
Driving licences
Extracts from the commercial register
And many others
We carry out certified translations in all European and many non-European languages throughout Europe, such as
Albanian
Amharic
Arabic
Armenian
Azerbaijani
Belorussian
Bengali
Bosnian
Bulgarian
Catalan
Chinese
Croatian
Czech
Dari
Dutch
English
Estonian
Farsi
Finnish
Flemish
French
Georgian
German
Greek
Hebrew
Hindi
Hungarian
Icelandic
Indonesian
Italian
Japanese
Kazakh
Khmer
Korean
Kurdish
Latvian
Lithuanian
Macedonian
Malay
Marathi
Montenegrin
Norwegian
Pashto
Polish
Portuguese
Punjabi
Romanian
Russian
Serbian
Slovak
Slovenian
Somali
Spanish
Swahili
Swedish
Tamil
Thai
Tigrinya
Turkish
Ukrainian
Urdu
Vietnamese
...
Countries in which Alphatrad Denmark can provide certified (official) translations
Austria
Belgium
Denmark
France
Germany
Great Britain
Italy
Luxembourg
Netherlands
Portugal
Spain
Switzerland
Other countries on request
If you would like us to provide you with a quote to carry out a certified translation, the easiest way is to send us your scanned document by e-mail. This way we can process your request as quickly as possible.
If you have a general inquiry, you can also use our online form.