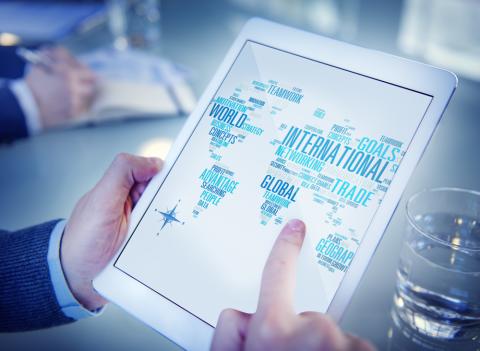 A website is the main source of information for a company on the Internet and accurate website translation plays an essential role in ensuring the company is seen.
The behaviour of consumers and Internet users has been changing for years, and companies and institutions have taken note. They are therefore now focusing on the creation of websites that serve as vehicles for their commercial activity and support for their brands.  In doing so, they achieve numerous benefits, ranging from promoting their brand's image to increasing sales and strengthening their corporate identity.
Companies need to make sure that their websites are translated into other languages as well to improve traffic and attract a high number of daily visitors.  
Danish, English, German, French, Swedish... Today, companies and individuals translate their websites into many different languages in order to reach as many visitors as possible. However, the most important decision is not whether to translate the website, but how to do it.
Nowadays, there are many automatic tools available to do this, but an investment in a professional translation service is always worthwhile in the long run.
What is the difference between a web page and a website?
Sometimes we mistakenly use the term web page when we are actually referring to a website. A web page is in fact only part of a website.  It is a single file, which is also assigned its own file name. A website, on the other hand, is made up of many web pages. 
Websites are programmed using content management systems, also known as CMS (Content Management Systems). The most common of these systems include WordPress, Drupal, TYPO3 and Joomla.
For individual web pages or content, classic mark-up or scripting languages are used, such as HTML, HTML5, PHP, ASP, JavaScript, XML and CSV, but files in Word or Excel formats – in which product data sheets, product information and/or specific tags of the programming code or comments are translated – are also used.
Do you need help with the translation of your website?
As one of the largest translation service providers in Europe, Optilingua International, to which Alphatrad belongs, has specialised in the translation of websites and online shops for years. We draw on 40 years of experience in the translation of specialist texts, to not only translate website text, but also to adapt it to the usage habits of the target country by using native translators.
Websites that we translate on a regular basis:
Company websites
Websites of public institutions
Online shops
Websites for online bookings
Websites of congress, trade fair or event organisers
Blogs
Directories
...
We translate websites in these languages:
Albanian
Arabic
Bosnian
Bulgarian
Catalan
Chinese
Croatian
Czech
Dutch
English
Estonian
Finnish
Flemish
French
German
Greek
Hungarian
Icelandic
Italian
Japanese
Korean
Latvian
Lithuanian
Portuguese
Romanian
Russian
Serbian
Slovak
Slovenian
Spanish
Turkish
Ukrainian
...
Our team is at your disposal.